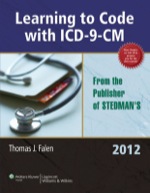 This title is being sold in the downloadable VitalBook™ format.
Updated to include the new and revised ICD-9-CM codes for 2012, this comprehensive, system-based text teaches the essential ICD-9-CM coding skills needed in medical coding and billing careers. The text provides an overview of ICD-9-CM guidelines on coding practice and introduces students to medical records, including how to locate information and code accurately and efficiently. The book covers symptoms, signs, diagnoses, procedures, and their ICD-9-CM codes by system, and uses actual medical records to show how to code conditions and procedures. A section explains how the coding process affects reimbursement and health services administration. Each chapter includes coding practice exercises. The author -- an AHIMA-Approved ICD-10-CM/PCS Trainer -- has written a chapter to help prepare for the 2013 switch to ICD-10, effectively breaking down the key differences, and relieving the anxiety surrounding the switch.
This title will only allow printing of 2 consecutive pages and copying of 2 consecutive pages at a time.
License Rules
Online License Type: Expires 365 days after registration
Downloadable License Type: Perpetual License
Table of Contents
Table of contents is not available