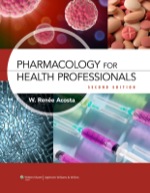 This title is being sold in the downloadable VitalBook™ format.
Ideal for introductory pharmacology courses, Pharmacology for Health Professionals offers a concise introduction to pharmacological concepts for students in the health professions. Now in a fully updated Second Edition, this full-color text provides a solid foundation in the basic principles of pharmacology, including the actions, indications, contradictions, and adverse effects of drug classes. A companion website offers animations and self-study materials for students and teaching resources for faculty.
This title will only allow printing of 2 consecutive pages and copying of 2 consecutive pages at a time.
License Rules
Online License Type: Expires 365 days after registration
Downloadable License Type: Perpetual License
Table of Contents
Table of contents is not available