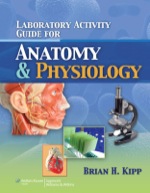 This title is being sold in the downloadable VitalBook™ format.
Laboratory Activity Guide for Anatomy & Physiology is the first lab manual developed specifically for 1-semester anatomy and physiology courses. Designed to be used with any A&P textbook, each lab includes exercises to let students get hands on with anatomy and physiology, bringing the material to life. Students reinforce learning through a variety of exercises and questions, including labeling, short answer, fill-in-the-blank, observation, and definitions. Multiple exercises are included in each lab so instructors have the freedom to select which exercises will work for their curriculum and available lab materials.
This title will only allow printing of 2 consecutive pages and copying of 2 consecutive pages at a time.
License Rules
Online License Type: Expires 365 days after registration
Downloadable License Type: Perpetual License
Table of Contents
Table of contents is not available